---
About us
more than neighbours are Christoph Meier (cello / guitar / voc.) and Leonard Ritschel (piano / voc.) based in Passau. Two-part and with cello, guitar and piano they compose and arrange under the influence of various genres. The folk-duo integrates elements of jazz, blues, indie and classical music. In the gospel choir of the University of Passau they got to know each other and discovered that they are neighbours. Because of their common love of music they agreed on naming their band "more than neighbours".
Leonard Ritschel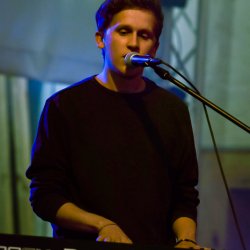 Leonard, born in Rosenheim, began taking piano lessons from his mother at the age of five and attended the musical Ignaz-Günther-Gymnasium in Rosenheim. There, under the pianist Olga Bolocan-Töppel, he strengthened his musical abilities within the framework of a classical education, which he demonstrated in the form of the solo concert "Rhapsody in Blue" (George Gershwin) with orchestra accompaniment. In 2014, he graduated from high school with excellent grades in music. At the beginning of his high school years he also studied clarinet under the conductor and composer Raúl Alvarellos and took part in youth music competitions.
Christoph Meier
Christoph, born in Regensburg, began taking piano lessons at the age of six. At eleven he switched to cello as his main instrument and enjoyed a classical education with Cornelie Bergius and Johannes Klier. In 2015 he graduated from the Werner-von-Siemens Gymnasium with music as an additum subject (cello). During the middle and upper school he learned saxophone with Franzi Forster and due to his father's passion he has always been accompanied by guitar playing, which grew into the equal passion of cello playing. After graduating from high school he was cellist in the symphony orchestra at the Singrün, and since 2015 he has been playing with his father, guitarist Hans "Yankee" Meier, in the duo Father and Son.
Alban "Luis" Tröndle
Alban Luis grew up north of Augsburg. Due to the professional cultural orientation of his parents, his childhood was already marked by art and music. First with the trumpet, later with drums and bass, he went through numerous ensembles, combos and school bands. In 2014, music steered his paths to South America, where he gave instrumental lessons for half a year through the association Musicians Without Borders. Since 2016, Alban lives and studies in Regensburg. Other musical projects currently include the band The MoG Collective, as well as various big bands and jazz combos.
Ben Kopfnagel
Ben Kopfnagel was born in Berlin. After finishing school he completed his education as a "state-certified ensemble leader in the field of rock/pop/jazz" at the Music College in Regensburg. His 17 years of drumming experience also ensured that he passed the entrance exam to study drums at the "Drummers Collective" in New York. Privately, he works as a drum teacher and producer - in his own recording studio "Alte Schule Studio" in Deimhausen. He enjoyed lessons under greats like Gerwin Eisenhauer, Jost Nickel, Jojo Mayer, Benny Greb, just to name a few of his teachers. Since 2020 Ben is a member of the band more than neighbours, but actively plays in various other constellations, not least in the band Klangphonics, of which he is also a founding member.
---
Gigs
Our upcoming gigs:
show previous gigs
IMPULS-Festival // Redoute

Passau

Facebook-/Instagram-Livestream // Innstadt-Brauerei

Passau

Café Museum

Passau, doesn't take place because of corona

Zeughaus, Album-Release

Passau, postponed because of corona

Konzertsaal (ehem. Piano Mora), Festspiele Europäische Wochen

Passau, postponed because of corona

Eröffnung der Kulturstadt Bayern - Böhmen

Schwandorf, Breite Straße, Bühne

KONZERT

Passau, Rathaus Innenhof (Jazzfestival Café Museum)

PARADIES

Hinding 50, Freinberg, ALTE TANKE

Vorband bei "The Komets" (ALBUM-RELEASE), Degginger

Regensburg

Vorband bei "The Komets" (ALBUM-RELEASE), Mälze

Regensburg

ALBUM-RELEASE, Zeughaus

Passau

ALBUM-RELEASE, Kresslesmühle

Augsburg

Unplugged im Club, Camera

Passau

Europäische Wochen

Passau

Stadtfest Open Air

Ingolstadt

Degginger, Popkulturfestival Push

Regensburg

Gablergasse, Nacht der Musik

Passau
---
Gallery
Videos
gallery_made_with_nanogallery2
Photos
gallery_made_with_nanogallery2
---
Contact
To get in touch with us, please contact us via .